GLASS AS A MORE ECOLOGICAL BUILDING MATERIAL THAN IS LUMBER
ESPECIALLY IN SOME DESERT AREAS OF THE WORLD

According to Encyclopedia Britannica,(1)the element SILICON is the main ingredient in glass. Silicon comprises about 28% of the Earth's crust. Sand is made up mostly of Silicon. Silicon is second in abundance only to the element oxygen. Silicon is found in practically all rocks as well as sand, clays and soils on Earth!

Think about this: The Sahara Desert is mostly sand. The Sahara Desert is 92% as large as the entire United States of America! There is enough sand there to build a glass dome over the entire United states! I'm not saying we should do that, but folks, we are NOT going to use up the element Silicon if we build our homes out of glass!

The chemical name for ordinary window glass is soda-lime silicate. Sand is made up mostly of silicon and could be one of the easiest (ecologically speaking) forms of silicon to make into glass. For instance, why couldn't a glass company use solar energy in a large, sandy desert to assist in the making of glass to be used right there to build a community? Sunlight could be concentrated unto one spot by using a circle of maybe a few dozen large mirrors, to assist in heating the ingredients of glass up to the proper temperature for glass-making (1590 degrees Centigrade). This process has to be more ecologically feasible than cutting trees for lumber (to build with), because the planet needs trees to maintain a stable climate!

According to Encyclopedia Brittanica,(1) there are several formulas for different types of glass. Soda-lime silica is a common form of glass. The chemical formula is: silica (SiO2), [70%]; soda (Na2O), [15%]; lime (CaO), [10%]; magnesia (MgO), [2.5%]; and alumina (Al2O3), [2.5%].

The diagram below gives you a rough idea of how glass is commercially made.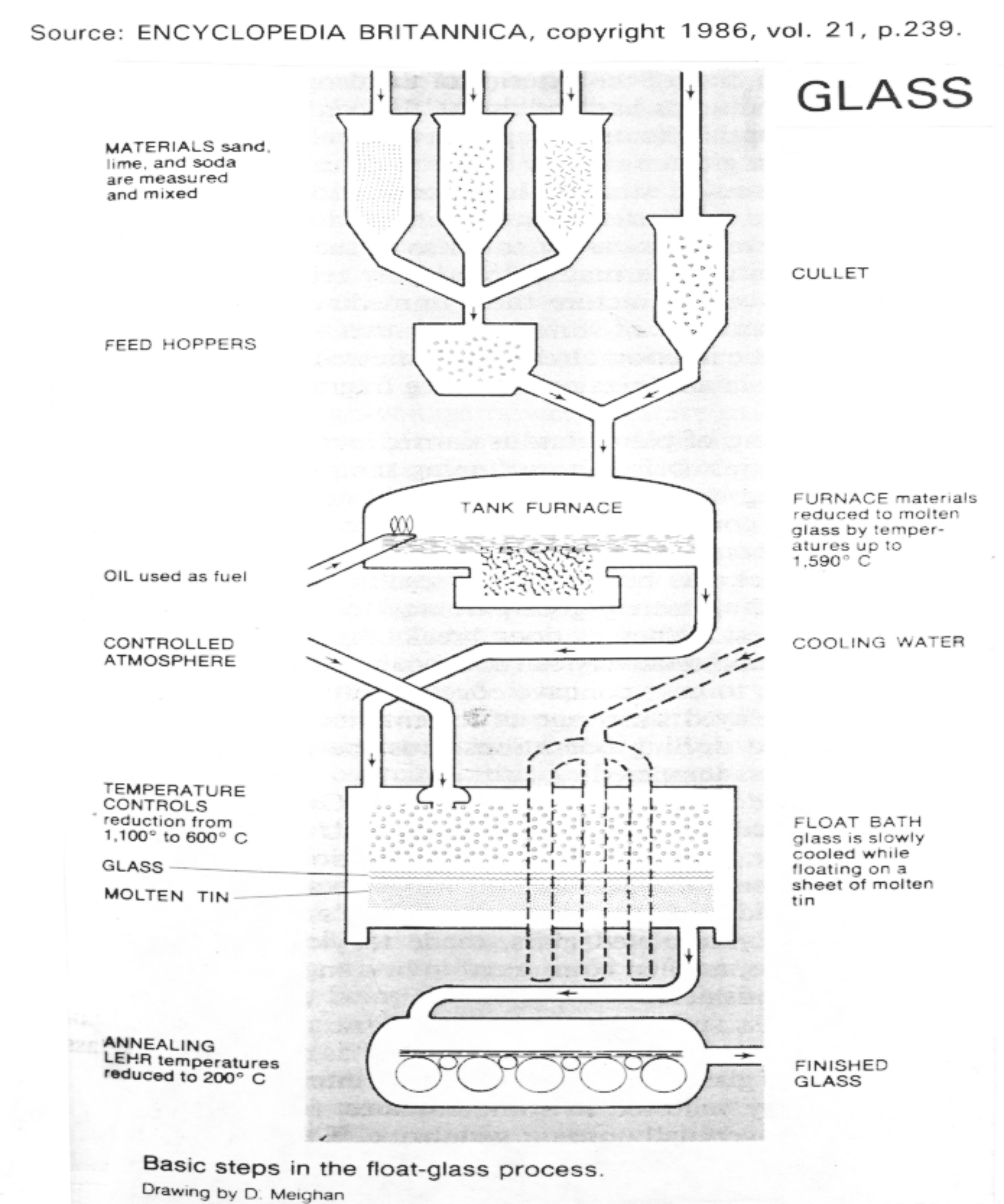 ________________________

1. Source: Encyclopedia Britannica, volume 10, p.809, copyright 1986. Click here for Encyclopedia Britannica's website: (http://www.britannica.com)